CELESTRON 11" Schmidt-Cassegrain Telescope with CG5-GT Mount/XLT Coatings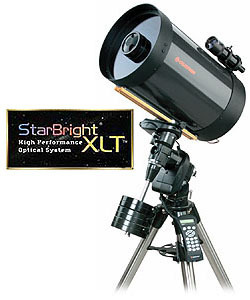 CELESTRON 11" Schmidt-Cassegrain Telescope with CG5-GT Mount/XLT Coatings
Camcor Item No.
114018063
Mfg. Part No.
11067-XLT
Product Info
The largest computerized scope in the series, the C11-SGT comes mounted on the CG-5 GT computerized EQ mount and allows access to features like automatic star alignment capability and GoTo slewing to over 40,000 objects.
Equipped with high speed motors and hand control, the C11-SGT allows you to remotely slew your telescope to desired objects quickly and accurately. No matter at what level you are starting out, this precision instrument will satisfy your needs both visually and photographically.
CG-5 Mount — Precision engineered for stability.
Our new German Equatorial mount has precision worm gears on both axes for extremely smooth tracking motion. The key element that makes this system the most stable in its class is the NEW heavy-duty tripod with larger and more substantial legs that offer excellent damping characteristics for more stable views. The CG-5 also has a convenient latitude scale for easier alignment and an optional polar finder scope for the ultimate in precision alignments.
StarBright XLT System -
We design and test our optical coatings with the aid of thin film design software in wide use throughout the optical, semiconductor, aerospace, and telecommunications industries. Using this software we have improved on our multi-layer enhanced mirror coatings, shifting the peak reflectance to the center of the visible spectrum. We have designed a completely new multi-layer anti-reflective coating and have introduced a new low absorption, high transmission glass for our corrector lens. This unequaled combination is standard with every StarBright XLT system.
Product Features
GPS-compatible with optional CN16 GPS Accessory
Proven NexStar® computer control technology
RS-232 communication port on hand control to control the telescope via a personal computer
Autoguider port for long exposure astrophotography
40,000+ object database with 400 user-definable objects and expanded information on over 200 objects
Custom database lists of all the most famous deep-sky objects by name and catalog number; the most beautiful double, triple and quadruple stars; variable star; solar systems; objects and asterisms
Double line, 16-character Liquid Crystal Display Hand Control with 19 fiber optic backlit LED buttons
DC Servo motors with encoders on both axes
The CG-5 GT computerized mount features Celestron's sleek integrated design.
Specifications
The Advanced Series C11-S Standard Accessories

Items
1-1/4" 40mm Plössl Eyepiece (70x)
9x50 Finderscope and Mounting Bracket
CG-5 Equatorial Mount and Tripod
Three 11# Counterweights
Star Diagonal - 1-1/4"
The Sky Level I CD-ROM
Accessory Tray