Presentation Products » Projection Screens - Electric »

Draper



Draper Targa Electric 6' x 8' Matte Projection Screen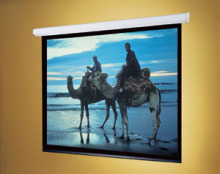 Draper Targa Electric 6' x 8' Matte Projection Screen
Usually ships in 1-3 business days
Camcor Item No.
DRA116005
Mfg. Part No.
116005


Today's Date: June 6, 2020

Fiberglass Matt White:

The standard to which all other screen surfaces are compared.

Matt white vinyl reflective surface laminated to tear-resistant woven fiberglass. A matt white surface diffuses projected light in all directions, so image can be seen from any angle. Provides accurate color rendition as well as superior clarity. Recommended for use with all high light output projection devices. Requires control of ambient light in the audience area. Washable, flame and mildew resistant. Seamless in all standard sizes through 10' high.

Care and Maintenance: Clean surface with a solution of mild dishwashing liquid diluted with warm water. Sponge the surface, rinse with clear water and blot dry. Do not use cleaning solvents or abrasives.
Features
Ideal for auditoriums and lecture halls, hospitals, hotels, churches, boardrooms and conference rooms.
The motor is mounted inside the roller on special vibration insulators, so operating noise is dramatically reduced.
Has a trim balanced appearance.
Pentagonal steel case is scratch-resistant white polyester finish with matching endcaps.
Screen operates instantly at the touch of a button and stops automatically in the "up" and "down" positions.
Viewing surface can be lowered to any position at the touch of a switch.
NTSC, HDTV and WideScreen format screens have black borders on all four sides
Available with a ceiling trim kit for ceiling recessed installation.
With control options, it can be operated from any remote location.
Depending on surface, available in sizes through 12' x 12' and 15' NTSC.
Custom sizes available.
Specifications
Specifications

| | |
| --- | --- |
| Size | 72" x 96" |
| Overall Size | 72" x 96" |
| Image Area | 72" x 96" |
| Case Length | 103" |
| Net Wt. (lbs) | 45 |
All material ©2018 Camcor, Inc. All Rights Reserved.