Cameras & Photography » Chemicals and Sprays - Photographic »

Kodak



Kodak Ektacolor RA Bleach-Fix Part B To Make 25 gal
FREE SHIPPING
* Hazardous item only available through our retail store. *
---
MSRP: 129.40
Your Price $129.40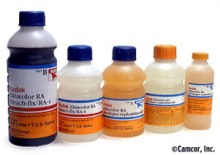 Kodak Ektacolor RA Bleach-Fix Part B To Make 25 gal
Camcor Item No.
KOD8471484
Mfg. Part No.
8471484

Today's Date: June 3, 2020
Supplied as all-liquid concentrates for easy mixing and handling, and in economical/efficient sizes.
For rapid-access processing of KODAK EKTACOLOR PORTRA III, EKTACOLOR SUPRA II, and EKTACOLOR ULTRA II Papers, and DURAFLEX RA, DURATRANS RA, DURACLEAR RA Display Materials.
Process steps require developer and bleach-fix.
Note: For more information, see KODAK Publications J-39 and Z-130.
(cc)
All material ©2018 Camcor, Inc. All Rights Reserved.