Cameras & Photography » Chemicals and Sprays - Photographic »

Kodak



Kodak Rapid Fixer to Make 5 Gal
Qualifies towards Free Shipping
* Hazardous item only available through our retail store. *
---
*** This Item Only Sold In Case Quantity. *** . This item is priced individually, but only sold in case quantities.
---
MSRP: 49.90
Your Price $49.90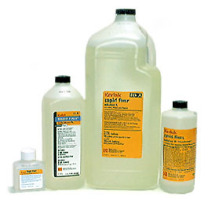 Kodak Rapid Fixer to Make 5 Gal
Camcor Item No.
KOD1464114
Mfg. Part No.
1464114

Today's Date: May 31, 2020

Rapid-acting hardening fixer for papers, films, and plates for machine or manual processing. Particularly recommended if prints tend to stick to belt or drum dryers, or become softened in toning operations. Consists of two liquid concentrates: Solution A (the fixer concentrate) and Solution B (the hardener concentrate).

(cc)

All material ©2018 Camcor, Inc. All Rights Reserved.