Furniture » Carts »

H Wilson



Wilson WT34E Tuffy Cart 34" with Powerstrip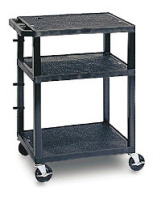 Wilson WT34E Tuffy Cart 34" with Powerstrip
Usually ships in 1-3 business days
Camcor Item No.
221042403
Mfg. Part No.
WT34E COLOR

Today's Date: July 7, 2020

Please click on the box above marked "other views" for color options for this cart. Please Specify Color of the cart in the comments section when placing your order.

Wilson WT34E Tuffy Cart - 34" with Powerstrip

Our color Tuffy plastic carts will not only help you organize, they'll make your workspace look good too. Their eleven color choices will match any environment, but don't let the looks of this engineering marvel fool you. The shelves are made from ultra strong injection-molded thermoplastic and will easily hold TV's, fax machines, computers, books, supplies, files, and more.
3 Shelves
Dimensions: 24"(w) x 34"(h) x 18"(d)
Weight: 28 lbs.
UL Listed 3 Outlet Powerstrip and cable clips
(cc)
All material ©2018 Camcor, Inc. All Rights Reserved.