Presentation Products » Projection Screens - Manual »

Da-Lite



Da-Lite 84" x 84" Model C Wall Projection Screen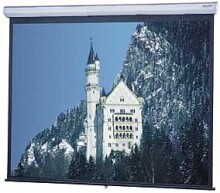 Da-Lite 84" x 84" Model C Wall Projection Screen
Usually ships in 1-3 business days
Camcor Item No.
117055042
Mfg. Part No.
82962

Today's Date: July 15, 2020

Video Spectra 1.5

Especially designed for demanding video and overhead LCD projection applications where a balance of higher gain and greater viewing angle is required. The special pearlescent surface may be cleaned with mild soap and water. Screen surface can be cleaned with mild soap and water. Flame retardant and mildew resistant.
Features
Ideal for large size conference or training rooms.
Permanently lubricated steel ball bearings combined with nylon bushings and heavy-duty spring assembly offers smooth operation even in demanding applications.
Video Spectra™ 1.5, High Contrast Matte White and Silver
Specifications
Specifications

Size
84" x 84"
213 x 213cm
Overall Case Length
87 - 5/16"
222cm
Between Hanger Eyes
85 - 13/16"
218cm
Shipping Weight
44 lbs
20 kg
Viewing Suface
Video Spectra
Viewing Angle
35°
Gain
1.5
All material ©2018 Camcor, Inc. All Rights Reserved.