Telescopes & Binoculars » Telescopes - Accessories »

Celestron



CELESTRON Power Tank 17V Rechargeable Power Supply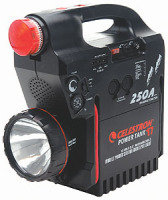 CELESTRON Power Tank 17V Rechargeable Power Supply
Camcor Item No.
114018050
Mfg. Part No.
18777

Today's Date: September 17, 2019

Newest in the Power Tank Series

Take your telescope anywhere with this portable rechargeable power supply. The Power Tank 17 is also useful as an emergency roadside accessory. It includes an emergency light, and booster terminals in to start weak car batteries.
Features
17 amp hour, 12 Volt D.C
2 x 12V DC output car jack socket
DC 3, 6, 9V output jacks
Built-in AM/FM Radio and Siren
Removable red filtered flashlight with magnetic back
Built-in multi-angle 800,000cp emergency Halogen spotlight
Handy jump-start system - 250 cranking AMPS (5 sec.)
Built-in circuit breaker for safety
Cigarette lighter adapter included
Switchable 110v-220v AC adapter
All material ©2018 Camcor, Inc. All Rights Reserved.