Interactive Learning » Software - ScienceWorks »

Scienceworks



ScienceWorks SlideWorks Biology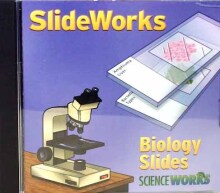 ScienceWorks SlideWorks Biology
Usually ships in 1-3 business days
Camcor Item No.
518518125
Mfg. Part No.
SW800-01

Today's Date: November 13, 2019

The second title in the Slide Works Series, Biology Slides introduces the microscope and over 50 slides most often seen in the beginning survey biology course usually taught in grades 9 or 10. This highly interactive software is also appropriate for life science courses taught in middle schools as well.

This new media resource about microscopes meets the National Science Education Standards recently published by the American Association for the Advancement of Science (AAAS).

Perfect for biology students at all levels.

Biology Slide Series includes:
Learning the microscope parts with quiz
Creating slide mounts in the lab with virtual lab activities
Viewing 50 plus common items through the interactive microscope
Drawing capabilities: sketch what you see
Using Glossary of terms with pronunciations
Building your own "slide" slide show
Accessing Web resources and help


(cc)
All material ©2018 Camcor, Inc. All Rights Reserved.