Cameras & Photography » Chemicals and Sprays - Photographic »

Photo Solutions



Photographic Solutions Sensor Swabs Type 3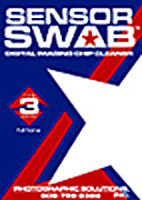 Photographic Solutions Sensor Swabs Type 3
Limited Stock - order today!
Camcor Item No.
380052005
Mfg. Part No.
US3BOX

Today's Date: September 17, 2019

Sensor Swabs are designed for cleaning CCD chips and other delicate or hard to reach optical and imaging surfaces. Clean room manufactured and sealed, these swabs are the ultimate in purity.

Although these items are not officially approved by Nikon or Canon, several digital imaging site message boards have threads discussing the need for cleaning these cameras, and the success with using these products. Read all instructions first and call us if you have questions - before proceeding. When used as directed these products are easy to use and safe and yield excellent results!
Specifications
Specifications
Compatibility

| | |
| --- | --- |
| Models | For Kodak 14n, SLR/n, SLR/c and Canon 1Ds Full Frame Sensor. Leica Digital Modul-R |
All material ©2018 Camcor, Inc. All Rights Reserved.