Cameras & Photography » Lighting: Portable/Photo/Stage and Studio »

Photogenic



Photogenic PowerLight Digital Remote Flash Unit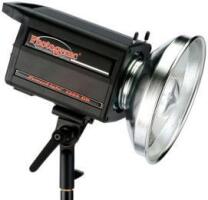 Photogenic PowerLight Digital Remote Flash Unit
Camcor Item No.
379044005
Mfg. Part No.
915871

Today's Date: June 6, 2020

Photogenic PowerLight Digital Remote Flash Unit



The PowerLight® PL2 series incorporates the most advanced electronic components providing you with superior lighting control, repeatability and optional wireless function controls. The four models are constructed to fulfill the demanding operational need of the professional photographer. The DR models offer digital displays for flash power or modeling power and precision adjustments in 1/10 or 1/2 f-stop increments. The PL1250DR incorporates proportional or manual options for the 250-watt quartz modeling lamps. This model also includes a UV, Color Corrected Flashtube to keep your images daylight balanced (C4-15C).

(cc)

All material ©2018 Camcor, Inc. All Rights Reserved.