Video » Video - Accessories »

Comprehensive



Comprehensive Premium True 75 Ohm RCA Plug, 26 awg Mini Coax RCA-75RGB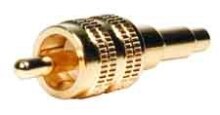 Comprehensive Premium True 75 Ohm RCA Plug, 26 awg Mini Coax RCA-75RGB
In Stock
Camcor Item No.
CVSRCARGB
Mfg. Part No.
RCA-75RGB

Today's Date: July 4, 2020

Comprehensive's True 75 Ohm RCA connectors eliminate impedance mismatching and distortion that can be caused by using 50 ohm connectors on 75 ohm cable. Comprehensive true 75 ohm RCA connectors are recommended for all analog applications and is a must for all digital/high bandwidth applications above 300 MHz.Comprehensive's lifetime warranty makes Comprehensive connectors the preferred choice of video/multimedia consultants and engineers worldwide.
Features
High resolution, True 75 Ohm Nickel over Brass Construction
Gold plated brass center pin for highest signal conductivity
All material ©2018 Camcor, Inc. All Rights Reserved.