Cameras & Photography » Lighting: Portable/Photo/Stage and Studio »

Manfrotto



Bogen Heavy Duty Flex Arm 237HD f/ Super Clamp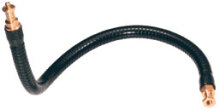 Bogen Heavy Duty Flex Arm 237HD f/ Super Clamp
Camcor Item No.
107042064
Mfg. Part No.
237HD

Today's Date: September 15, 2019

2896HD / HEAVY DUTY FLEX ARM

-->

HEAVY DUTY FLEX ARM / Cat. No: 237HD

A flexible Heavy Duty arm designed to be used with the super clamp system. Similar to the 237 Flex Arm but with a larger diameter of .7". The Flexarm can hold light weight fixtures like a 150W Fresnel or props and be easily moved and held in place without having to lock any knobs.

Length: 21.6" with hexagonal stud to fit Super Clamp 2915. 3/8" female thread on one end and 5/8" stud with 1/4-20" male thread on the other.

(cc)

All material ©2018 Camcor, Inc. All Rights Reserved.