Presentation Products » Projection Screens - Manual »

Da-Lite



Da-Lite Model B 43x57-in. - Matte White 74644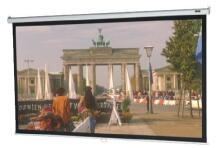 Da-Lite Model B 43x57-in. - Matte White 74644
Usually ships in 1-3 business days
Camcor Item No.
DAL74644
Mfg. Part No.
74644

Today's Date: February 28, 2020

Manual Wall and Ceiling Screens

Da-Lite's wide selection of manual wall and ceiling screens gives the presenter a professional solution for any projection application or situation. All screens incorporate Da-Lite's exclusive Camlok roller system that prevents the screen from being accidentally pulled from the roller. All screens come with black masking borders as standard.

Matte White - The most versatile screen surface and the premier choice when ambient light is controllable. It evenly distributes light over a wide viewing area while colors remain bright and life-like, with no shifts in hue. Screen surface can be cleaned with mild soap and water. Flame retardant and mildew resistant.
Features
Perfect for classroom and meeting room facilities.
Easy pull-down system locks at intervals to fit a variety of projection formats.
Nylon bearings provide smooth quiet operation for the life of the screen.
Case design allows for hanging from a ceiling or flush mounting to a wall.
Matte White, High Contrast Matte White, Glass Beaded and Video Spectra™ 1.5 fabrics will be seamless in all sizes.
High Power fabric up to and including 6' high will be seamless.
Specifications
Specifications

| | |
| --- | --- |
| Size HxW (in.) | 43" x 57" |
| Size HxW (cm.) | 109 x 145 |
| Overall Length of Case (in.) | 63-3/8" |
| Overall Length of Case (cm.) | 161 |
| Nominal Diagonal Size (in.) | 72" |
| Nominal Diagonal Size (cm.) | 183 |
| Viewing Angle | 50° |
| Gain | 1 |
All material ©2018 Camcor, Inc. All Rights Reserved.