Computers & Printers » Printer Ink Cartridge / Stick »

Hewlett-Packard



HP #70 Ink Cartridge - Light Cyan (130 ml)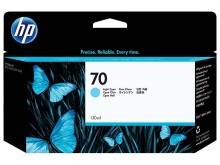 HP #70 Ink Cartridge - Light Cyan (130 ml)
In Stock
Camcor Item No.
350036273
Mfg. Part No.
C9390A

Today's Date: March 30, 2023

Avoid waste and rework that can cost time and money. HP Vivera Pigment Inks are designed and tested with the printer and our broad media portfolio for consistent, hassle-free printing. HP 70 Ink Cartridge Twin Packs offer savings and convenience.
Simple, problem-free printing. HP Smart technology makes adjustments for color accuracy and consistency and facilitates convenient supplies reordering.¹ And with HP Vivera pigment ink and HP media, get quick color stability for fast print reviews.
Innovative HP Vivera Pigment Ink technology delivers an unmatched combination of outstanding image quality and over 200 years fade resistance on a range of HP media. You also get a wide color gamut, rich black density and true gray neutrality.
(cc)
Specifications
Ink types: Pigment-based
Print cartridges: Color - Light Cyan

Print cartridge volume, metric: 130 ml

Operating humidity: 20% to 80% RH
Storage humidity: 20% to 80% RH
Operating temperature: 59ºF to 95ºF
Storage temperature: 59ºF to 95ºF
Package dimensions: 7.95" x 1.56" x 5.05"
Package weight: 0.5 lb.

Quantity per case: 20
Case dimensions: 14.33" x 8.58" x 9.02"
All material ©2018 Camcor, Inc. All Rights Reserved.