Audio » Audio/Visual - Switchers & Routers »

Kramer Electronics



Kramer VP-41 4x1 XGA Mechanical Switcher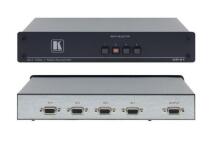 Kramer VP-41 4x1 XGA Mechanical Switcher
Camcor Item No.
384051022
Mfg. Part No.
51-0075099

Today's Date: June 2, 2020

The VP-41 is a high performance switcher for computer graphics with resolutions ranging from VGA through UXGA and higher. It switches any one of four signals to a single output.

(cc)
Features
High Bandwidth - 750MHz (-3dB)
HDTV Compatible
Mechanical (passive) Switching - no power required
Desktop Size - Compact size. Two units can be rack mounted side-by-side in a 1U rack space with the optional RK-81X adapter.

Specifications
Inputs: 4 VGA/XGA on HD15F connectors
Output: 1 VGA/XGA on an HD15F connector
Video Bandwidth: 750MHz (-3dB)
Switch Control: Four front panel switches
Crosstalk: -58dB at adjacent channels @ 10MHz
Coupling: Direct
Dimensions: 10"w x 4"d x 1.8"h
Weight: 2.4 lbs. (approx.)
Options: RK-81X 19" rack adapter

All material ©2018 Camcor, Inc. All Rights Reserved.