Furniture » Conference Cabinet »

Quartet



Quartet 4' x 4' Oak Laminate Conference Room Cabinet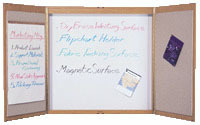 Quartet 4' x 4' Oak Laminate Conference Room Cabinet
Usually ships in 1-3 business days
Camcor Item No.
103029075
Mfg. Part No.
838


Today's Date: June 1, 2020

Scratch-and-stain-resistant laminate conference room cabinets feature magnetic white premium porcelain writing board, fabric covered bulletin doors and pad holders. Magnetic premium porcelain won't dent or scratch, is stain-resistant, easy to clean, looks new for years, and also functions as a magnetic bulletin board. Magnetic closures and full-length hinges allow the doors to open and close smoothly. Includes four assorted Quartet® dry-erase markers, an eraser and magnets.

(cc)

All material ©2018 Camcor, Inc. All Rights Reserved.