Presentation Products » Projection Screens - Manual »

Draper



Draper 137044 73" Salara Series M Matte White Manual Screen - HDTV Format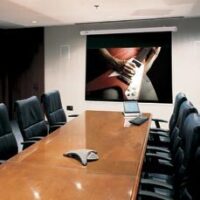 Draper 137044 73" Salara Series M Matte White Manual Screen - HDTV Format
Usually ships in 1-3 business days
Camcor Item No.
119023181
Mfg. Part No.
137044

Today's Date: February 24, 2020

Draper 137044 73" Salara Series M Matte White Manual Screen - HDTV Format

A hardwired screen like other DRAPER motorized screens, it can be furnished with any standard control option. As an alternative, the control board and IR receiver may be built into the endcap.

(cc)
Features
Floating gunlatch wall brackets grip the screen securely and are barely visible.
NTSC, HDTV and WideScreen format have image area framed with black on all four sides. Includes pull cord.
Options: Black borders on AV format screens—1-1/2" wide standard through 70" x 70"; 2" wide on larger sizes. Extra drop is also available.
Depending on surface, available in sizes through 96" x 96" and 10' diagonal NTSC.
U. S. Patent pending.
Warranted for one year against defects in materials and workmanship.
Custom sizes available.
Specifications
Specifications

Overall Size
Image Area
Case Length
Net Weight (lbs)
Color
All material ©2018 Camcor, Inc. All Rights Reserved.