Presentation Products » Projection Screens - Portable »

Draper



Draper Traveller 100" Portable Screen High Contrast Grey 4:3 NTSC Video Format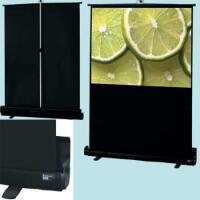 Draper Traveller 100" Portable Screen High Contrast Grey 4:3 NTSC Video Format
Usually ships in 1-3 business days
Camcor Item No.
119023567
Mfg. Part No.
230115

Today's Date: March 28, 2023

Draper Traveller 100" Portable Screen High Contrast Grey 4:3 NTSC Video Format

It doesn't make sense to hit the road with a 5-pound projector and a 35-pound screen. Lighten up with the Traveller. Designed with today's presenter in mind, the Traveller has a strikingly modern appearance. It is lightweight with a clean, simplified design. Setting up the Traveller is easy. Just place it on the floor or table. Screen height adjusts instantly, at the touch of a finger. An infinitely adjustable telescoping upright tensions screen in desired position. Upright stores in case.
Fiberglass matt white viewing surface is the ideal choice for today's computer-driven presentations. Compatible with resolutions up to 1200 x 1600 and beyond, with a broad viewing cone and accurate color rendition. Also available in glass beaded and High Contrast Grey. The Traveller includes enough black "rise" below image to set units on either the floor or a table. 3/4? black masking borders are standard.
Self contained in a sturdy extruded aluminum case, the Traveller is durable and easy to carry. Use the built-in carrying handle, or sling it over your shoulder with the detachable shoulder strap.

(cc)
Features
Self-contained in an extruded aluminum case.
Only weighs 14 lbs. (50")
Easy to carry.
Durable.
Built-in carrying handle.
Shoulder carrying strap also included.
Telescoping support twist locks to position screen at desired height.
Clean, simplified design.
Includes 3/4" black borders and 42" black "rise."
Standard surface specifically designed for today's computer presentations and high resolution requirements.
Warranted for one year against defects in materials and workmanship.
Specifications
Specifications

Size
100"
Adjustable Height Range
63-1/2" - 107-1/2"
Image Area
60" x 80"
Case Length
86-1/2"
Net Weight (lbs)
25
Screen
High Contrast Grey
All material ©2018 Camcor, Inc. All Rights Reserved.