Presentation Products » Projection Screens - Portable »

Draper



Draper Ultimate Folding Screen Valence Bar for 10 x 10 - Square Format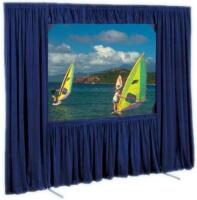 Draper Ultimate Folding Screen Valence Bar for 10 x 10 - Square Format
Usually ships in 1-3 business days
Camcor Item No.
119023876
Mfg. Part No.
220070

Today's Date: June 25, 2021

Draper Ultimate Folding Screen Valence Bar for 10' x 10' - Square Format

For a memorable presentation, you can give your Cinefold or Truss-Style Cinefold a professional, cinema-like appearance with a striking velour Dress Kit. Stage curtains surround the viewing surface, focus the audience's attention on the screen and frame your visual presentation. All Cinefold and Truss-Style Cinefold Dress Kits fabrics are flame proofed, meeting fire safety codes. Dress Kits are especially worthwhile for rear screen presentations. Besides improving the appearance of the screen, the velour curtains conceal the projection equipment, shield the audience from projector light and help exclude ambient light in the projection area. A complete Dress Kit includes 46" skirt, 12" valance, and two 32" side drapes, all in rich velour. Tubular aluminum valance bar and drapery bars attach without tools to the dress kit fittings found on all Cinefold and Truss-Style Cinefold frames. The viewing surface is fitted with snaps to accept the skirt, or select optional adjustable skirt bar. Skirt bar allows for adjustment of screen size and aspect ratio by raising the skirt in 6" increments.

(cc)
Features
Rich black (standard) or blue drapes surround the viewing surface, focus attention on the screen and frame your visual presentation.
All Cinefold Dress Kit fabrics are flame proofed to meet fire safety codes.
Dress Kits are especially useful for rear screen presentations. The velour curtains conceal the projection equipment, shield the audience from projector light and help exclude light from the projection area.
Complete Dress Kit includes 46" skirt, 12" valance, and two 32" wide side drapes, with valance and drapery mounting bars.
Hardware attaches without tools to the fittings found on all Cinefold frames.
Screen size and aspect ratio may be adjusted by raising the optional adjustable skirt bar in 6" increments to conceal the lower portion of the viewing surface.
Warranted for one year against defects in materials and workmanship.
Specifications
Specifications

Size
10' x 10'
Surface Finish
Black velour
Format
Square
All material ©2018 Camcor, Inc. All Rights Reserved.