Presentation Products » Projection Screens - Manual »

Da-Lite



Da-Lite Floor Model C - 87" x 116" - Matte White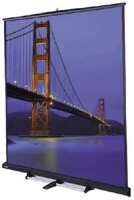 Da-Lite Floor Model C - 87" x 116" - Matte White
Usually ships in 1-3 business days
Camcor Item No.
117055837
Mfg. Part No.
98041


Today's Date: July 12, 2020

Da-Lite Floor Model C - 87" x 116" - Matte White
Screen pulls up from case with reduced spring tension for easy raising and lowering.
Ideal for rental, stage and hospitality applications.
Carpeted Floor Model C is also available when screen is subject to extraordinary abuse during rental situations.
The floor stand, sold separately, is required.
Matte White fabric up to and including 10' high will be seamless.
(cc)
Specifications
Specifications

Model Number
98041
Viewing Area
87" x 116"
Diagonal
150"
Format
Video
Fabric
Matte White
All material ©2018 Camcor, Inc. All Rights Reserved.