Presentation Products » Projection Screens - Manual »

Da-Lite



Da-Lite Model B - 50" x 67" - High Contrast Matte White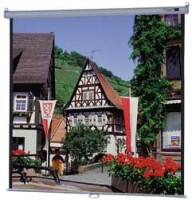 Da-Lite Model B - 50" x 67" - High Contrast Matte White
Usually ships in 1-3 business days
Camcor Item No.
117055965
Mfg. Part No.
93161

Today's Date: July 12, 2020

Da-Lite Model B - 50" x 67" - High Contrast Matte White
Perfect for classroom and meeting room facilities.
Easy pull-down system locks at intervals to fit a variety of projection formats.
Nylon bearings provide smooth quiet operation for the life of the screen.
Case design allows for hanging from a ceiling or flush mounting to a wall.
Matte White, High Contrast Matte White and Video Spectra 1.5 fabrics will be seamless in all sizes.
High Power fabric up to and including 6' high will be seamless.
(cc)
Specifications
Specifications

Model Number
93161
Viewing Area
50" x 67"
Diagonal
84"
Format
Video
Fabric
High Contrast Matte White
All material ©2018 Camcor, Inc. All Rights Reserved.