Presentation Products » Projectors - Accessories »

Chief



Chief KITPS003 Projector Mount Kit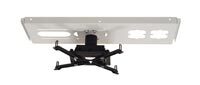 Chief KITPS003 Projector Mount Kit
Usually ships in 1-3 business days
Camcor Item No.
115022240
Mfg. Part No.
KITPS003

Today's Date: June 6, 2020

Chief KITPS003™ Projector Mount Kit

Projector ceiling mount kit includes a universal projector mount, 3" (76.2 mm) extension column and lightweight suspended ceiling kit to secure a projector from a suspended ceiling structure. Supports most suspended ceiling installations within a single package.
Features
Includes: RPAU Universal Projector Ceiling Mount, CMA003 3" (76. 2 mm) Extension Column, and CMA440 Lightweight Suspended Ceiling Kit
Specifications
Specifications

Color
Black
Weight Capacity
50 lbs (22.7 kg)
All material ©2018 Camcor, Inc. All Rights Reserved.