Cameras & Photography » Cameras - Lenses »

Nikon



Nikon AF-S Nikkor 400mm f/2.8G ED VR Autofocus Lens (Black)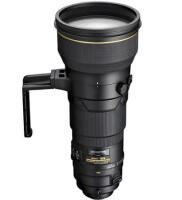 Nikon AF-S Nikkor 400mm f/2.8G ED VR Autofocus Lens (Black)
Camcor Item No.
131012308
Mfg. Part No.
2171

Today's Date: July 7, 2020

Nikon AF-S Nikkor 400mm f/2.8G ED VR Autofocus Lens (Black)

The Nikon Telephoto AF-S Nikkor 400mm f/2.8G ED VR Lens is the premium ultrafast telephoto lens for the Nikon autofocus system. It is a very robust and durable lens. Its lightweight construction incorporates a magnesium die-cast barrel, and professional-grade dust and moisture sealing allows it to be used in more rugged situations.

This lens features the improved Vibration Reduction (VR II) system that allows handheld telephoto shooting, even in less-than-ideally lit conditions. The VR system minimizes image blur caused by camera shake, and offers the equivalent of shooting at a shutter speed of about 4 stops faster. In addition, this lens also features the Tripod Detection mode, which reduces vibration that may occur due to shutter release, when mounted on a tripod.

The Silent Wave Motor (SWM) feature provides swift autofocus with superior accuracy and ultra-quiet operation. This G-type lens does not feature an aperture ring on the lens body, resulting in a lighter and more compact lens. Aperture changes are designed to be done via the camera's command dial.

Note:VR function is only compatible with Nikon's F5, F100, N80, N65, D70, D100 & D1-series (or later generation) cameras.
AF-S feature is not supported by certain older camera models.(N60, N55, N8008/s, N6006, N5005, N4004 & N2020)
"G" type lenses are not fully compatible with the F4, N90-series, N70, N8008-series and N6006 (or older model) cameras; with these lenses only programmed auto or shutter-priority auto exposure mode can be used.
Features
Tripod Detection mode reduces vibration that may occur due to shutter release when mounted on a tripod.
Magnesium die-cast lightweight barrel and professional-grade dust and moisture resistance.
Improved M/A mode provides instant and fast switching from autofocus to manual focus with nearly no time lag, even during tracking autofocus.
Three ED (Extra Low Dispersion) glass elements restrict chromatic aberrations to a minimum, while enhancing color, sharpness and contrast, even at the widest aperture settings.
Exclusive Nano Crystal Coat and a meniscus protective glass element combine to further reduce ghosting and flare for even greater image clarity.
9-bladed aperture diaphragm assures brilliant rendition of out-of-focus highlights.

Item Includes:
F-1 Rear Cap
HK-33 Slip-On Lens Hood
52mm (drop-in) Filter Holder
52mm NC Filter
LN-1 Lens Strap
CT-404 Trunk Case
Monopod Collar
5-Year Warranty (1-Year International + 4-Year USA Extension)
Specifications
Specifications

General

Filter Size
52mm or gelatin filters via rear drop-in slot
f/Stop Range
2.8-22
Minimum Focus Distance
9.5' (2.9 m)
Magnification
1:6.3
Angle of View
6° (35mm format)
4° (Nikon DX format)
Groups/Elements
11/14
Tripod Collar
Yes
Length
14.5" (36.8 cm)
Maximum Diameter
6.3" (16.0 cm)
Weight
10.2 lbs (4.6 kg)
Usable Nikon Teleconverter
TC-20E II, TC-17E II & TC-14E II (maintain autofocusing), or TC-301 & TC-14b (manual focus only)
All material ©2018 Camcor, Inc. All Rights Reserved.