Presentation Products » Remotes & Pointers »

Master Products



Keyspan PR-PRO3 Presentation Remote Pro with USB 100ft+Receiver, Laser Pointer, and Mouse Control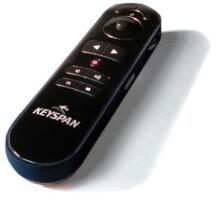 Keyspan PR-PRO3 Presentation Remote Pro with USB 100ft+Receiver, Laser Pointer, and Mouse Control
In Stock
Camcor Item No.
442072250
Mfg. Part No.
PR-PRO3

Today's Date: October 23, 2019

Keyspan PR-PRO3 Presentation Remote Pro

The Perfect Tool for Presenters and Educators!
The Presentation Remote Pro frees you from your keyboard during a presentation or lecture. With RF, laser, mouse and audio controls inone sleek remote, it is an ideal tool for presenters and lecturers.Offering a range of more than 100 feet, the Presentation RemotePro covers large meeting rooms and lecture halls -- far outdistancingother remotes in its price range. There is no software to install -- just plug the receiver into the USBport on your PC or Mac and it works within seconds.
Features
RF Connectivity: The powerful 2.4 Ghz RF signal has a range of 100 feet and works through walls and furniture.
Mouse Control: Provides cursor control, scrolling and two-button mouse capabilities.
Laser Pointer: Highlight key points in your presentation with ease.
Volume Control: Adjust sound volume with the push of a button.
Hide Slide: Darkens the screen anytime that you want to have the audience focus on you.
Receiver: RF receiver stores in the remote when not in use. Pop in and out with a simple push of your finger.
On/Off Switch: Ensures that batteries are not accidentally run down when carrying the Presenter in a laptop bag.
AAA batteries: Provide long life and are easy to purchase when replacement batteries are needed.
Specifications
Specifications

General

Manufacturer#
PR-PRO3
System Requirements
Windows : At least one available USB port; Windows 98/Me/2000/XP/Vista
Macintosh : At least one available USB port; Mac OS 9.1 or greater; Mac OS X
RF Connectivity
2.4 Ghz RF signal with 100 feet range
Power
AAA batteries
Warranty
1 year
RoHS Compliant
Yes
Dimensions (Unpackaged)
Presentation Remote Pro Remote: 35 mm x 124 mm x 27 mm
Presentation Remote Pro Receiver: 55 mm x 17 mm x 10 mm
Weight (Unpackaged)
Presentation Remote Pro Remote: 39 g
Presentation Remote Pro Receiver: 6 g
All material ©2018 Camcor, Inc. All Rights Reserved.