Cameras & Photography » Digital Memory »

Plus



Plus Boards MEMORYSTK - Memory Stick - USB Flash Drive for Electronic Copyboard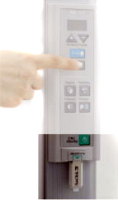 Plus Boards MEMORYSTK - Memory Stick - USB Flash Drive for Electronic Copyboard
Camcor Item No.
442072263
Mfg. Part No.
MEMORYSTK

Today's Date: February 24, 2020

Plus Boards MEMORYSTK - Memory Stick - USB Flash Drive for Electronic Copyboard

Use the optional USB Flash Drive for a PC-less presentation. Simply plug the card directly into the USB port just below the control panel and you are ready to go! Save all your notes to a USB Flash Drive and easily upload to your computer, email, print or edit your notes easily.
Features
Easily save notes directly to the optional USB Flash Drive no need for a PC
Easily upload notes in a digital format
Email notes to absent students, colleagues
Print notes and distribute
All material ©2018 Camcor, Inc. All Rights Reserved.