Presentation Products » Mounts - Projectors »

Chief



Chief SLB191: Custom Interface Bracket for RPA, RPM and Smart-Lift Series Projector Mounts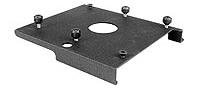 Chief SLB191: Custom Interface Bracket for RPA, RPM and Smart-Lift Series Projector Mounts
Usually ships in 1-3 business days
Camcor Item No.
115022319
Mfg. Part No.
SLB191

Today's Date: July 7, 2020

Chief SLB191: Custom Interface Bracket for RPA, RPM and Smart-Lift Series Projector Mounts
(Compatible with Panasonic PT-F Series Projectors)

SLB interface brackets are required for installations using our RPA™, RPM™ and Smart-Lift™ Series Mounts (exception: RPM models with the optional Q-Lock™ Integrated Security feature use SLM brackets instead). Chief offers both custom and universal versions of SLB projector interface brackets.
Features
For Smart-Lift installations, SLB brackets must be ordered separately.
RPA and RPM mounts already include the correct SLB bracket.
Specifications
Specifications

General

Construction
Steel
Includes
• SLB Bracket
• 6 x 10-24 Thumb Nuts
• 3 x M4x20mm Pan Head Screws
• 5 x M4 Flatwashers
• 2 x M4x8mm Pan Head Screws
• 10-Year Warranty
Output Voltage
Chief RPA, RPM and Smart-Lift Series Projector Mount
All material ©2018 Camcor, Inc. All Rights Reserved.