Audio » Audio Listening Centers »

Hamilton



Hamilton HH/JBP-8SV/HA5 Listening Center, 8 Station Jackbox with Volume, Deluxe Headphones with Storage Rack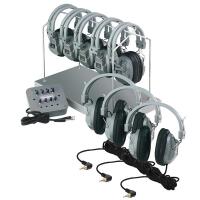 Hamilton HH/JBP-8SV/HA5 Listening Center, 8 Station Jackbox with Volume, Deluxe Headphones with Storage Rack
Usually ships in 1-3 business days
Camcor Item No.
701005100
Mfg. Part No.
HH/JBP-8SV/HA5

Today's Date: December 6, 2019

Hamilton Electronics 8 Station Stereo Listening Center HH/JBP-6SV/HA5.

This listening center includes:
(8) Hamilton SC-7V Headphones:
The Hamilton SC7V Headphone with individual volume control has a 3.5mm stereo plug. New soft leatherette style washable, replaceable ear cushions, new easier-to-wear lighter design with swivel ear-cups and soft coil, 6ft braided nylon cord that all contribute to longer fatigue-free use. Now in easy to mark medium gray colors. Use in groups with a listening center jackbox.

Specifications:

• Volume control
• Impedance: 170 ohms
• Speaker drivers: 40mm cobalt magnet type
• Headphone frequency response: 18-20k Hz
• 6 ft Braided Nylon Cord
• One (1) year warranty.
(1) 8 Position Jackbox with Individual Volume Controls
(1) Headphone Rack, Steel with Dust Cover
All material ©2018 Camcor, Inc. All Rights Reserved.