Cameras & Photography » Cameras - Lenses »

Canon



Canon EF 100mm f/2.8L Macro IS USM Lens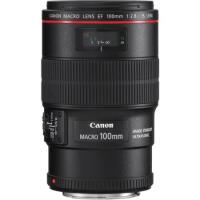 Canon EF 100mm f/2.8L Macro IS USM Lens
Camcor Item No.
113006510
Mfg. Part No.
3554B002

Today's Date: June 25, 2021

The

Canon EF 100mm f/2.8L Macro IS USM Lens

is a notably updated version of Canon's popular 100mm Macro lens. In its latest incarnation, the '100 Macro' joins Canon's esteemed 'L'-series, and as such is held to a higher level of resolving power, overall construction, and weatherproofing. Other improvements found on the EF 100mm f/2.8L include Optical Image Stabilization with up to 4-stops of shake control, and a refined Ultra Sonic Motor (USM) for quicker and quieter auto-focusing with full-time manual override.

Like its predecessor, the Canon EF 100mm f/2.8L allows for a comfortable, shadow-free shooting distance between the front of the lens barrel and the subject with life-size (1:1) magnification. Optional extension tubes increase this magnification for exceptional close-up detail.
Features
• Tele-Macro Focal Length The convenient 100mm focal length of the Canon EF 100mm f/2.8L Macro IS USM Lens allows for a comfortable shooting distance between the camera and subject, and less chance of shadow interference when shooting at closer focusing ranges.
Life-Size Image Reproduction
The lens allows for continuous focusing down to 1:1 life-size. Optional extension tubes can increase this ratio for even greater magnification.
'L'-Series Optical Quality
As a Canon 'L'-series optic, the Canon EF 100mm f/2.8L Macro IS USM Lens can be counted among the sharpest, best-built, weatherproof optics available for Canon EOS SLR cameras.
Quick and Quiet Focusing
By incorporating a new Ultra Sonic Motor, Canon has improved the speed and reduced the noise levels of the lens's autofocus system, while still allowing for full-time manual override.
Compatible with All Canon EOS Cameras
The Canon EF 100mm f/2.8L Macro IS USM Lens is compatible with all Canon EOS digital and film SLRs. When used with a Canon APS-C sensor DSLR, the lens offers a 35mm equivalent focal length of 160mm.
Specifications
Specifications




| | |
| --- | --- |
| Filter Size | 67mm |
| f/Stop Range | f/2.8-32 |
| Minimum Focus Distance | 1' (0.31 m) |
| Magnification | 1:1 |
| Zoom/Focus Control | Fixed Focal Length with Auto and Manual Focus |
| Angle of View | 23.4° |
| Groups/Elements | 12 Groups / 15 Elements |
| Length | 4.8" (123mm) |
| Maximum Diameter | 3.1" (77.7mm) |
| Weight | 1.38 lbs (625g) |
All material ©2018 Camcor, Inc. All Rights Reserved.