» »

C2G



Cables To Go Cat6 Patch Cable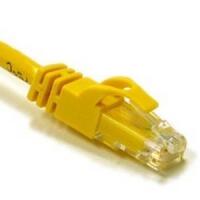 Cables To Go Cat6 Patch Cable
In Stock
Camcor Item No.
607000462
Mfg. Part No.
31346

Today's Date: July 7, 2020

With Cables To Go's Cat6 550Mhz Snagless Patch Cables you can stay ahead of the game with the use of this high-speed cabling to distribute data, voice and video. These cables will deliver stable performance to 550 MHz. Each comes UL verified, and meets EIA/TIA Cat 6 TIA/EIA- 568-B-2.1, draft 9 standards. These cables will handle bandwidth intensive applications up to 550 Mhz and beyond and drastically reduce both impedance and structural return loss (SRL) as compared to standard 100 Mhz wire! This is accomplished by bonding together each of the individual pairs, helping to maintain the twist-spacing throughout the line right up to your termination point. Constructed with high-quality wire and a shortened body plug will keep Near-end Crosstalk (NEXT) levels to a minimum. The molded, snag-free boot prevents unwanted cable snags during installation and provides strain-relief. Cables To Go Cat6 550Mhz Snagless Patch Cables are available in a variety of colors to easily color-code your network installation.

Specifications
General Information
Manufacturer
Cables To Go
Brand Name
Cables To Go
Product Type
Network Cable
Technical Information
Cable Type
Category 6
Cable Characteristic
Patch Cable
Cable Length
60"
Connector on First End
1 x RJ-45 Male
Connector on Second End
1 x RJ-45 Male
Conductor
Copper
Jacket
PVC
Physical Characteristics
Color
Yellow
Weight
2.08 oz
Miscellaneous
Additional Information

Applications:

Gigabit 1000 BASE-T
100 BASE-T
10 BASE-T (IEEE 802.3)
4/16 Mbps Token Ring (IEEE 802.5)
100 VG-AnyLAN
100 Mbps TP-PMD (ANSI X3T9.5)
55/155 Mbps ATM
Voice
T1
High bandwidth applications such as 622 ATM
Wideband
Compatibility
Network Adapters
Hubs
Switches
Routers
DSL/Cable Modems
Patch Panels and other twisted-pair applications
Certifications & Standards
UL
TIA/EIA- 568-B-2.1
Draft 9
Warranty
Standard Warranty
Lifetime
All material ©2018 Camcor, Inc. All Rights Reserved.