Computers & Printers » Network Related »

C2G



Cables To Go Remote Control Repeater Kit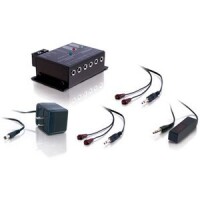 Cables To Go Remote Control Repeater Kit
Camcor Item No.
607001731
Mfg. Part No.
40430

Today's Date: September 19, 2020

Remote Control Repeater Kit contains all equipment necessary to remotely operate 4 components (expandable to 12 components) using your standard remotes. Mount the IR receiver in a central location and connect to the IR Distribution Block. This block repeats the signals through emitters to your electronic components. Your components may now be mounted in your entertainment center, closet or another room! The kit is self-contained and easy to connect.

Specifications
General Information
Manufacturer
Cables To Go
Brand Name
Cables To Go
Product Type
Video Distribution Kit
Miscellaneous
Additional Information
Simple to use
Controls 4 devices (expandable to a maximum of 12)
IR Receiver and IR Repeater have blinking Blue LED to confirm receipt of IR Signal
IR Repeater designed for shelf or wall mount
Package Contents
IR Distribution Block
Mini IR Receiver
2 x Dual IR Emitters
AC/DC Adapter
Green Compliance
Yes
Green Compliance Certificate/Authority
RoHS
Warranty
Standard Warranty
1 Year
All material ©2018 Camcor, Inc. All Rights Reserved.