Presentation Products » Projection Screens - Manual »

Da-Lite



Da-Lite Model B with CSR Manual Projection Screen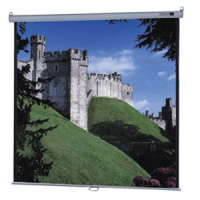 Da-Lite Model B with CSR Manual Projection Screen
Usually ships in 1-3 business days
Camcor Item No.
117056697
Mfg. Part No.
36457

Today's Date: February 23, 2020

Model B with CSR Manual Projection Screen Offered exclusively by Da-Lite, the Controlled Screen Return (CSR) system adds an impressive feature to the ever-popular Model B design. The CSR system ensures the quiet controlled return of the screen into the case providing optimal performance and smooth, consistent operation. Screens with the CSR feature must be fully extended. There are not intermediate stopping positions.

Specifications
General Information
Manufacturer
Da-Lite Screen Company
Brand Name
Da-Lite
Product Line
Model B
Product Type
Projection Screen
Technical Information
Diagonal Image Size
109"
Screen Size
57.5" Height x 92" Width
Screen Fabric
Matte White
Front Projection
Yes
Aspect Ratio
16:10
Viewing Angle
60°
Projection Formats
Widescreen
Screen Folding Mechanism
Manual
Physical Characteristics
Form Factor
Wall Mount
Ceiling Mount
All material ©2018 Camcor, Inc. All Rights Reserved.