Cameras & Photography » Lighting: Portable/Photo/Stage and Studio »

Promaster



Promaster Cool Light 3 In 1 Octagon 80cm (Lamps Not Included)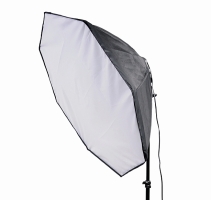 Promaster Cool Light 3 In 1 Octagon 80cm (Lamps Not Included)
Limited Stock - order today!
Camcor Item No.
345017047
Mfg. Part No.
3987

Today's Date: October 17, 2019

The PROMASTER SystemPRO CoolLight 3 in 1 uses 4 compact fluorescent photo flood lamps for an output of up to 1350 watts (equivalent) of cool color corrected light. Use the CoolLight 3 in 1 as a softbox, as a reflector, or with an umbrella. The CoolLight 3 in 1 lamp holder allows you to control the lamps in 2 lamp arrays allowing for the use of either 2 lamps or 4.
Specifications
Uses 4 lamps up to 85w (340w equivalent) in 2 lamp arrays (lamps not included)
Built-in umbrella holder (umbrella sold separately)
All material ©2018 Camcor, Inc. All Rights Reserved.