Cameras & Photography » Lighting: Portable/Photo/Stage and Studio »

Promaster



Promaster 5500k 30w Compact Fluorescent Photo Lamp (120w Equivalent) for Coollight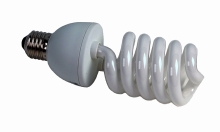 Promaster 5500k 30w Compact Fluorescent Photo Lamp (120w Equivalent) for Coollight
Limited Stock - order today!
Camcor Item No.
345017059
Mfg. Part No.
1712

Today's Date: June 2, 2020

PRO has discovered that light output based on "wattage" ratings of compact fluorescent lamps varies widely. A large variety of factors impact the output and "wattage" is not an accurate reflection of the lamp output.

Based on this, PROMASTER has adopted the use of a Photo Luminance Factor which more accurately reflects the light output of the PROMASTER Compact Fluorescent Photo Lamps in studio use. Each lamp in the PROMASTER line has been evaluated based on a single lamp in a 10" photo reflector measured at 10 feet.

Specifications
Specifications:



Approximately 120 watt incandescent equivalent
5500K
E26 Base
All material ©2018 Camcor, Inc. All Rights Reserved.