Computers & Printers » Paper Printer / Copier »

Promaster



Promaster Silver Metallic Inkjet Paper - 11" x 17" - 20 pack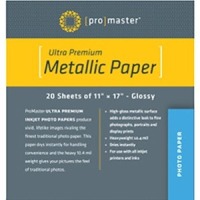 Promaster Silver Metallic Inkjet Paper - 11" x 17" - 20 pack
In Stock
Camcor Item No.
345017240
Mfg. Part No.
8439

Today's Date: September 30, 2020

This is a 10.4 mil microporous RC Photograde bright white gloss inkjet paper with a unique Silver Metallic layer that yields prints similar to silver halide metal papers. Compatible with dye and pigment inks, instant drying and water-resistant. Works with all inkjet printers for brilliant photographic, P.O.P. output and general printing. Available in cut sheet and rolls.

All material ©2018 Camcor, Inc. All Rights Reserved.