Cameras & Photography » Cameras - Flash Accessories »

Promaster



Promaster Flash Diffuser For Nikon SB700 Speedlight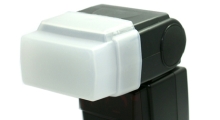 Promaster Flash Diffuser For Nikon SB700 Speedlight
Limited Stock - order today!
Camcor Item No.
345017368
Mfg. Part No.
9279

Today's Date: September 30, 2020

A diffuser creates a softer, more even light from your electronic flash. Promaster Custom Fit Flash Diffusers attach without the assistance of velcro or tape and are available to fit many popular show mount electronic flash units.

All material ©2018 Camcor, Inc. All Rights Reserved.