Audio » Microphones Wireless »

Shure



Shure MX890-J3 Wireless Gooseneck/Desktop Base with Wireless Transmitter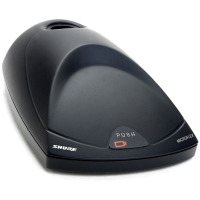 Shure MX890-J3 Wireless Gooseneck/Desktop Base with Wireless Transmitter
Usually ships in 1-3 business days
Camcor Item No.
136017592
Mfg. Part No.
MX890-J3

Today's Date: July 4, 2020

Shure MX890-J3 Wireless Desktop Base is fully compatible with SLX® wireless systems, including the SLX4L wireless receiver with logic output for applications requiring logic functionality.

The MX890-J3 is designed for use with MX405, MX410, and MX415 Microflex® Modular Gooseneck Microphones.
Features
Sleek, low profile design
Frequency agile, microprocessor controlled transmitter
IR link to SLX receiver for automatic frequency synchronization
Programmable frequency Group/Channel display
Programmable mute function
Operates on two AA batteries Compatible with all Shure SLX Wireless systems
Supports Shure MX405, MX410, and MX415 Microflex Modular Gooseneck Microphones
CommShield® technology for protection from RF interference
Specifications
Operating Range
30 m (100 ft.)

Note: Actual range depends on RF signal absorption, reflection, and interference

Frequency Stability
+/-10 ppm
Maximum Frequency Deviation
45 kHz
Oscillator Type
Phase-locked loop (PLL) controlled synthesizer
Power Requirements
3V (2 AA alkaline or rechargeable batteries)
Battery Life
≥8 hours (alkaline)
Power Consumption
130 mA, 15 mA
Operating Temperature Range
-18–57 °C (0–135 °F)

Note: Battery may limit this range

Dimensions
43 mmH x 87 mmW x 148 mmD (1 11/16 x 3 3/8 x 5 13/16 in.)
Weight
Net: 11 oz
Packaged: 18.7 oz

All material ©2018 Camcor, Inc. All Rights Reserved.