Furniture » Charging Carts - Tablet/iPad/Chromebook »

CEF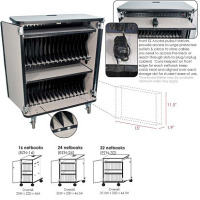 CEF EZN-32-CBB EZN 32 Netbook/Chromebook Charging Cart - 36 Outlets - Cherry
Usually ships in 1-3 business days
Camcor Item No.
651200290
Mfg. Part No.
EZN-32-CBB


Today's Date: December 14, 2019

CEF EZN-32-CBB EZN 32 Netbook/Chromebook Charging Cart - 36 Outlets - Cherry.


STANDARD FEATURES:
Each numbered slot: 1.9W x 15D x 11.5H
Surge protected outlets on EZ Access pullouts with ample space for power cord and AC adapter storage
Individual cord keepers above each slot
Keyed locking door(s)
Cord wraps
Handles on one end for easy control
(4) 5 inch heavy duty ball bearing swivel casters (all locking)
OPTIONS:
ADD 3-point Hasp clasp (customer supplied padlock) for any double door model, EZN-24/EZN-32 (E7)
Upgrade to 6" soft balloon wheels (adds 1.5" to height) (P3)
Basic 7-day Programmable Switching Timer (U15)

CHROMEBOOKS:
Acer C720
Asus C200MA, C300MA
Dell 11
HP 11, 14
Lenovo x131e, Thinkpad 11e Yoga
Samsung 11.6" / 13.3"
Toshiba 13.3"
***Models that fit may not be listed. Check to make sure your model fits in slot dimensions (or contact Camcor, Inc. for assistance). CEF NOT responsible for improper cart size selection***
All material ©2018 Camcor, Inc. All Rights Reserved.