Computers & Printers » computers - Accessories »

Matrox



Matrox TripleHead2Go Digital Edition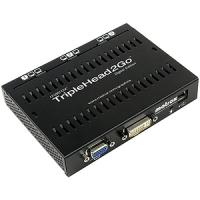 Matrox TripleHead2Go Digital Edition
Usually ships in 1-3 business days
Camcor Item No.
108905018
Mfg. Part No.
T2G-D3D-IF

Today's Date: August 3, 2020

TripleHead2Go Digital Edition delivers the ultimate surround graphics experience for professionals and gaming enthusiasts alike. This versatile new product enables users looking to add three digital monitors to their workstation, desktop computer or notebook with a maximum resolution of up to 3840x10241 (triple 1280x1024).

The latest in Matrox's series of Graphics eXpansion Modules (GXM), TripleHead2Go Digital Edition is an external multi-display upgrade device that connects via the dual-link DVI or analog output of your system and can support both analog and digital monitors. Dramatically increasing Office Productivity for business professionals, providing an incredible Surround Design environment to high-end workstation users and delivering the most immersive Surround Gaming experience to gamers, the TripleHead2Go Digital Edition is the ideal solution for individuals looking for a truly digital-to-digital experience.
Specifications
General Information
Manufacturer
Matrox
Brand Name
Matrox
Product Model
TripleHead2Go
Product Type
Multiview Device
Technical Information
Functions
MultiView
Platform Supported
PC
Mac
Software
Software Included
CD which includes the following software:

Install Package
Electronic Product Manual
PowerDesk SE (includes Image quality adjustment, center popup, window management, Matrox Monitor Bezel Management feature, etc)

Physical Characteristics
Weight (Approximate)
9.88 oz
Miscellaneous
System Requirements

Minimum System Requirements:

Powered USB Connector
Dual-link DVI or single VGA output connector
Display driver supporting 1920 x 480, 2400 x 600, 3072 x 768 or 3840 x 1024 resolution

Operating Systems Support:

Windows XP
Windows 2000
Windows XP x64bit
Windows Vista
Windows 8 (32/64 bit)
Windows 7 (32/64 bit)
Windows Server 2012 (32/64bit)
Mac OS X v10.4
Linux 3

Note : Under Windows 2000, when TripleHead2Go is connected to a notebook only the 3 external displays will be active - the LCD screen will be disabled.
All material ©2018 Camcor, Inc. All Rights Reserved.