Computers & Printers » Printers - Large Format »

Epson



Epson SureColor P20000 Standard Edition 64" Large Format Printer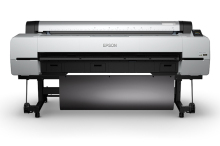 Epson SureColor P20000 Standard Edition 64" Large Format Printer
In Stock
Camcor Item No.
138017526
Mfg. Part No.
SCP2000SE


Today's Date: July 23, 2019

The Art of Performance.


The all-new 44" Epson SureColor P10000 and 64" Epson SureColor P20000 are the successors to one of the most widely used fine art printers ever developed – the Epson Stylus® Pro 11880.

Designed for high-production photographic, fine art and indoor display graphics printing, we've incorporated newly-developed imaging technologies – including an all-new high-performance 2.6" wide Epson PrecisionCore® MicroTFP® print head. Along with an all-new Epson UltraChrome PRO nine-color pigmented ink set – including four levels of gray – the all-new SureColor P10000 and SureColor P20000 are the ultimate production tools for the demanding requirements of high-production color and black-and-white fine art printmaking.

Including advanced media handling options from cut sheet to roll, from plain papers to photographic, fine art, and even 1.5 mm thick poster boards, the new Epson SureColor P10000 and SureColor P20000 redefine the state of the art in wide format, high-production photographic imaging applications.
Specifications
Printing Technology: Advanced PrecisionCore MicroTFP Print Head
10-channel, piezo inkjet print headMinimum Ink Droplet Size: Enhanced Variable Droplet Technology as small as 3.5 picolitersMaximum Print Resolution: 2400 x 1200 dpi; 1200 x 1200 dpi; 1200 x 600 dpi; 600 x 600 dpi; 600 x 300 dpiPrint Speed: 16" x 20" prints from 1:47 to 3:17 Production is 2:09
20" x 30" prints from 2:55 to 5:33 Production is 3:40
40" x 60" prints from 8:33 to 16:30 Production is 10:52Nozzle Configuration: Color and Monochrome; 800 nozzles x 10 channels
Ink:
Ink Type: Epson UltraChrome PRO pigment inks
Printer is designed for use with Epson cartridges only, not third-party cartridges or ink.Ink Palette: C, LC, VM, VLM, Y, LGY, GY, DGY, PK, MKInk Configuration: 10-ink, 9-colorReplacement Ink:
Photo Black T800100
Cyan T800200
Vivid Magenta T800300
Yellow T800400
Light Cyan T800500
Vivid Light Magenta T800600
Dark Gray T800700
Matte Black T800800
Gray T800900
Light Gray T800000
Fade Resistance / Print Longevity: UltraChrome HDX, our next-generation pigment ink technology, is independently rated by Wilhelm Research for up to 200 years for color prints and up to 400 years for black-and-white prints
Ink Supply System:
Ink Supply Fill Volume: Initial cartridge fill volume: 110 ml x 10 total colors (used for initial fill at setup)
Cartridge fill volume: 700 ml each x 10 colors totalInk Shelf Life: 2 years from printed production date or 6 months after open
All material ©2018 Camcor, Inc. All Rights Reserved.