Furniture » Charging Carts - Tablet/iPad/Chromebook »

Lock N Charge



LocknCharge Sphero Charging Case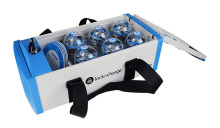 LocknCharge Sphero Charging Case
Usually ships in 1-3 business days
Camcor Item No.
563000055
Mfg. Part No.
10172

Today's Date: July 8, 2020

The Sphero Charging Case™ – designed to charge, store, secure and carry Sphero SPRK+ or BOLT Robots.




Features:

Simultaneously charge six Sphero SPRK+ or BOLT robots via inductive charging bases.
Open architecture to easily see if all robots are secured.
A strong aluminum case and keyed lock secure Sphero robots and accessories when not in use
A lightweight design makes it easy to carry around, even by children.
Lifetime warranty on the chassis.
Specifications
inches: 5.9 (H) x 8.1 (W) x 16.8 (L)

Compatible with Sphero SPRK+ & BOLT Robots only.

Weight: 7 pounds

Charging Case does not include Sphero Robots. Inductive bases are installed by customer.

All material ©2018 Camcor, Inc. All Rights Reserved.