Cameras & Photography » Darkroom Photo Related »

Premier



Premier Paper Safe 8.5x11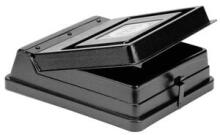 Premier Paper Safe 8.5x11
Camcor Item No.
PRE811PS
Mfg. Part No.
PR811PS

Today's Date: February 18, 2020

PRE811PS - 8 1/2" x 11"
Each hold 200 sheets of single weight paper.
Ideal for storage of paper, film, metal, etc.
Positive lock.
Exclusive "Tilt and Tap" feature fans paper for easy single-sheet removal.
Made of rugged ABS plastic.
(cc)
All material ©2018 Camcor, Inc. All Rights Reserved.