Audio » Audio Listening Centers »

Califone



Califone 2395AV Powered Listening Center - 2395PLC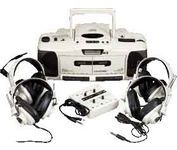 Califone 2395AV Powered Listening Center - 2395PLC
Usually ships in 1-3 business days
Camcor Item No.
CAL2395PLC
Mfg. Part No.
2395PLC

Today's Date: July 9, 2020

Featuring our ever-popular 2395AV-02 boom box and 2924AVPS stereo headphones, this system is expandable and flexible for many group applications.

This complete stereo listening center is built for reliability and sound performance. Ideal for language and listening centers, its flexibility in classrooms and libraries makes it a must.
Features
Full digital controls
CD, CD-R and CD-RW compatible
Built-in electret microphone
Dual Cassette recorder/player with 2X counter
Separate bass and treble controls
6 Watts RMS for up to 75 people
AM/FM Stereo tuner
Four 2924AVPS Stereo Headphones
Individual volume controls
Specifications
2385AV-02

Power Output
6 Watts RMS
Distortion
1% at rated power
Radio Frequency Range
FM: 87-108 MHz

AM: 530-1710 kHz
Mic. In
3.5mm mini jack
Cassettes
Dual decks
Jacks
Remote Start/Stop Mic jack
Mic. Sensitivity
1.5mV
Remote Tape On/Off Jack
2.5mm
Headphone Jacks
3.5mm mini and 1/4" phone
Power Requirements
AC: 110V, 60Hz

DC: UM1 ("D") batteries (8)
Dimensions
18.25"W x 6.5"H x 8.5"D
Weight
8 lbs., without batteries

2924AVPS

Speaker
Size: 40mm Diameter (1.6 inches)

Diaphragm: Mylar

Magnet: Ferrite

Impedance: 30 Ohms each side

Frequency Response: 40 H - 18 kHz

Sound Pressure Level: 93 db +/- 3 dB

Power Capacity: 20 milliwatts RMS, 150 milliwatt peak

Distortion: 5% approximately
Volume Control
Continuously variable
Cord
Straight, 6 feet
Plug
Stereo, 1/4" Nickel Plated

Stereo, 3.5 mm Nickel Plated

Tip: Left

Ring: Right

Sleeve: Common
Ear Pad
PVC (Washable)
Headband
PVC with Comfort Sling
Headphone Cup
ABS
Weight
10 Oz.
All material ©2018 Camcor, Inc. All Rights Reserved.