Presentation Products » Projection Screens - Manual »

Da-Lite



Da-Lite Model C 12x12 Matte White Wall Screen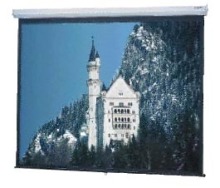 Da-Lite Model C 12x12 Matte White Wall Screen
Usually ships in 1-3 business days
Camcor Item No.
DAL40284
Mfg. Part No.
40284


Today's Date: August 17, 2019

Manual Wall and Ceiling Screens

Da-Lite's wide selection of manual wall and ceiling screens gives the presenter a professional solution for any projection application or situation. All screens incorporate Da-Lite's exclusive Camlok roller system that prevents the screen from being accidentally pulled from the roller. All screens come with black masking borders as standard.
Features
Ideal for large size conference or training rooms.
Permanently lubricated steel ball bearings combined with nylon bushings and heavy-duty spring assembly offers smooth operation even in demanding applications.
Matte White fabric up to and including 10' high will be seamless.
Glass Beaded fabric up to and including 8' high will be seamless.
Video Spectra™ 1.5, High Contrast Matte White and Silver Matte fabrics available in sizes up to 8' high.
High Power fabric available in size up to 9' x 12' and will be seamless in sizes up to 6' high.
Specifications
Dimensions

Sizes
12 ft. x 12 ft.
366 cm x 366 cm
A - Overall Case Lenth
147-5/16 in.
374 cm
B - Between Hangers Eyes
145-13/16 in.
370 cm
Shipping Weight
79 lbs.
35.8 kg
Viewing Surface
Matte White
Glass Beaded
High Contrast Matte White
Video Spectra 1.5
Silver Matte
High Power; Case Diameter (width); 2-3/4 in.
7 cm
Optional Accessories
No. 6 Wall Bracket - 6" non-adjustable extension brackets.
No. 11 Wall Bracket - 10" or 14" non-adjustable extension brackets.
Pull Rod.
No borders (Black masking borders standard).
CSR (Controlled Screen Return)
Floor Model Available
Floor Stand
Carpeted Floor Model Available (black or gray)
All material ©2018 Camcor, Inc. All Rights Reserved.