Presentation Products » Projection Screen Accessories »

Da-Lite



Da-Lite No. 11 Wall Brackets - Black - 14" Extension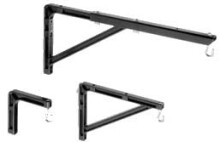 Da-Lite No. 11 Wall Brackets - Black - 14" Extension
Usually ships in 1-3 business days
Camcor Item No.
117056040
Mfg. Part No.
98036

Today's Date: July 8, 2020

Da-Lite No. 11 Wall Brackets - Black - 14" Extension
Use for convenient mounting to extend screen from wall to avoid obstacles such as chalkboards.
Model No. 11 Extends screen from wall 10" or 14". Non-adjustable.
Extension wall brackets are only to be used with screens weighing 75 pounds or less.
(cc)
All material ©2018 Camcor, Inc. All Rights Reserved.