Presentation Products » Projection Screens Fixed Frame »

Da-Lite



Da-Lite Cinema Contour with Pro-Trim Fixed Frame Projection Screen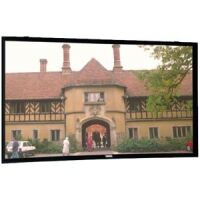 Da-Lite Cinema Contour with Pro-Trim Fixed Frame Projection Screen
Usually ships in 1-3 business days
Camcor Item No.
117060250
Mfg. Part No.
87158V

Today's Date: October 4, 2023

Da-Lite Cinema Contour with Pro-Trim Fixed Frame Projection Screen - 52" x 92" - Da-Tex - 106" Diagonal
Specifications
General Information
Manufacturer
Da-Lite Screen Company
Brand Name
Da-Lite
Product Line
Cinema Contour
Product Type
Projection Screen
Technical Information
Diagonal Image Size
106"
Screen Height
52"
Screen Width
92"
Screen Fabric
Da-Tex
Rear Projection
Yes
Aspect Ratio
16:9
Viewing Angle
30°
Projection Formats
HDTV
Screen Folding Mechanism
Fixed Frame
Physical Characteristics
Form Factor
Wall Mount
Miscellaneous
Additional Information

Da-Tex:
A translucent, neutral gray vinyl surface that offers high transmission and low reflectance values for optimal viewing. It yields excellent color rendition, image contrast and a wide viewing angle. Suitable for all types of rear projection. Ideally suited for both lace and grommet and snap button type screens. Material needs to be tensioned. Screen surface can be cleaned with mild soap and water. Flame retardant and mildew resistant.
All material ©2018 Camcor, Inc. All Rights Reserved.