Educational Products for the Classroom

We accept Purchase Orders, Credit Cards, Procurement Cards, Checks, and Wire Transfers.
FEID# 56-0818892
The Digital Classroom
Projection Screens
The Mobile Classroom
Professional Development
STEM / STEAM
Visual Products
Listening Products
Computers & Printers
Multimedia Carts
Educational Products
Success in today's classroom is measured by exceeding expectations. When teaching, you want your tools to be as dependable as possible so students will experience learning with optimal retention. Camcor, Inc. is dedicated to making sure you are armed with the technology and innovations needed to help your students make an impact in the world. There is no better way to do that than with your expertise and providing them with the best tools for the classroom.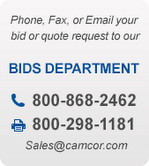 Provide your students with a head start by taking advantage of 15% - 25% off some of our most popular items! Camcor is dedicated to making sure you have everything a successful classroom environment demands. Our experienced team is available to provide easy-to-understand and effective guidance to help you acquire tools for your lessons in the form of projectors, document cameras, interactive boards, computers and much more!
We know how important the right tools can be. Since 1949, our number one goal has been you and to empower your teaching strategy. Let's be overachievers together.
We accept Purchase Orders, Credit Cards, Procurement Cards, Checks, and Wire Transfers

FEID# 56-0818892


Contents of all material on these pages are ©1999-2019 Camcor, Inc. All Rights Reserved.