STEM / STEAM Products from Camcor.com

STEM Fuse curriculum
STEM Fuse's course material is fully digital and interactive, providing an excellent learning experience for your students. It can be delivered on any device or integrated with your school's LMS. It can also be delivered "old school" in a .pdf format to allow for physical copies or projection of the material. Learn More »

Invent Anything
littleBits is a platform of easy-to-use electronic building blocks that empower you to invent anything, from your own remote controlled car, to a smart home device. The Bits snap together with magnets, no soldering, no wiring, no programming needed. Learn More »
STEM Fuse curriculum is being used by over 1.2 Million customers in all 50 States in the U.S. and five foreign countries. With over 20 semester or year-long digital courses, serving elementary schools all the way through colleges and universities.

WHY SCHOOLS CHOOSE STEM / FUSE CURRICULUM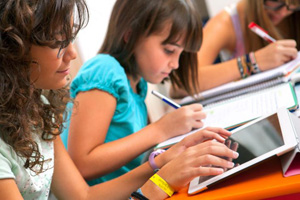 Full curriculum – standards aligned, comes with everything needed to teach including teacher's guides, step-by-step presentations, lesson plans, and industry-like software

Flexible delivery – digital content fits all devices, any LMS, all smartboards and can be downloaded as printable PDF files. Curriculum can fit any teaching schedule—i.e. Semester, Trimester, Quarter

Client support and training – initial teacher training, professional development, IT support, and year-round customer support

Cost effective/sustainable – sustainable year after year well beyond any short term grants, $1,499 per course per school per year subscription

Unlimited usage within your school – courses can be accessed by every teacher and every student within a school

Teacher Friendly
Includes Teacher's guides, Pacing Guides, Grading Rubrics, Answer Keys and Teacher's Solutions to reduce prep time.

Curriculum includes EVERYTHING needed to teach the course (discussion topics, presentations, assignments, step-bystep instructions for projects, assessments, group projects, etc.)

Includes free online Teacher Training (On-site Professional Development is also available)

Cost Effective

Affordable Campuswide subscriptions
Unlimited Student& Teacher licenses during subscription period
District discounts available for added savings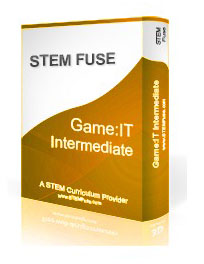 Teaches Current Technology
Courses are project-based and feature current technology to engage students and expose them to what industry is using right now.
Unity / C# Programming & Advanced Game Design
Blender for 3D Modeling & Texturing
Android Studio / Java Programming & Mobile App Development
Scratch & Construct 2 Game Engines

Object Oriented & Event Driven Programming
HTML / Cascading Style Sheets / Content Management System

3D Printing

littleBits is empowering everyone to create innventions, large and small, with their platform of easy-to-use electronic building blocks

littleBits STEAM - STUDENT BUILDING BLOCKS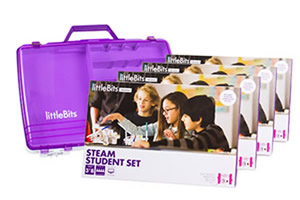 START IN A SNAP
Educators of every level can now bring STEAM learning to life - no experience necessary. We walk you through every step with comprehensive lessons and guides.
RAISE TECHNOLOGY LITERACY
Students engage with electronics by completing 8 challenges that progress in difficulty, with 10 companion lessons for educators.

EASY STORAGE & CLASSROOM MANAGEMENT
Your 4 STEAM Student Sets come with a littleBits tackle box to keep your Bits safe, plus classroom management tips and tricks.
MAKE CURRICULAR CONNECTIONS
The 120+ page Teacher's Guide connects challenges to NGSS and Common Core standards, and inspires you to take concepts further.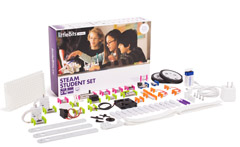 Easy to use student sets
Sets you up for 16+ hours of STEM/STEAM teaching with 8 engaging challenges, and additional companion lessons.
Getting started is simple with a Student Invention Guide and Teacher's Guide.
Designed in partnership with educators to incorporate NGSS & Common Core in curriculum.
Engage students in problem solving, creative thinking, and collaboration through invention-based learning.
Works for classroom/makerspace instruction or self-directed learning for 1 - 4 students.
The Hardware Development Kit (HDK) is the quickest way to get started developing your own module for the bitLab.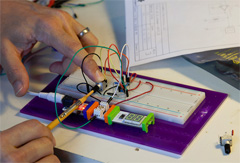 The two proto modules allow you to connect to PCBs and breadboards, while the perf module allows you to build a small circuit right on the module. When you're ready to design your own PCB, you can use the included gray bitSnap™ connectors to attach to the board. We've also included color-coded stickers so you can easily denote your bitSnaps as power, input, wire, or output.

IT'S ALL REUSEABLE
Playtime never ends when your Bits are reusable! Build an invention, then take it apart to create something new.
COMBINE WITH YOUR TOYS
Give your toys new superpowers by adding Bits to them. Try LEGO®, stuffed animals, or even board games!
BUILD CREATIVE CONFIDENCE
Nothing beats the satisfaction of engineering your own solutions to real-world problems.
LEARN IN YOUR LIVING ROOM
Inventing extends learning from the classroom into your home by unlocking creativity and critical thinking skills.
3D PRINTERS from MakerBot enhance STEM / STEAM

Contents of all material on these pages are ©1999-2019 Camcor, Inc. All Rights Reserved.